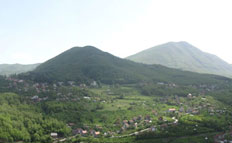 Banja vilage is located in the central part of Priboj municipality area, 5 km away from the town centre, in South-western Serbia at the altitude of 550 meters. Located at the top of the deep wooded and cultivated river valley and surrounded by mountains of Stari Vlah. In the north of Banja rises the highest point of the montain called Crni Vrh overgrown by pine forests. Lisja rocks under linden and spruce are located on the southern side. Along the left side of Pobijenik Mountain is green Lim river flowing by town of Priboj.
Travelling routes to Banja: by Belgrade - Bar railway, by main road Belgrade - Podgorica, as well as by regional road Kokin Brod - Rutosi - Kratovo.
The constraction of modern health care facility, which offers physical medicine and rehabilitation services, in 1971 has greatly contributed to the development of the Spa. In the very centre of the Spa there are several thermo-mineral springs, sources of water reaching 37°C.
Banja was known by ancient Romans and the heroic population of Medieval Serbia. Settled on the main road which led from Bosnia to Constantinople the Banja was the hangout by many passengers and caravans. The hospital treating St. Sava's (famous serbian ortodox Saint known by establishing Serbian Ortodox Church) ill feet was founded here at the time of famous Nemanjic Dinasty in 12th century. The story of regeneration of King Urosh, the son of the one of the most famous serbian king's King Stefan the First (Urosh "harsh"), who had a skin disease was included in peoples' traditional poems. Old Turkish Baths with mineral springs were used by the Turks who conquered these areas for many ages.